My Blog
Posts for tag: pediatric dentistry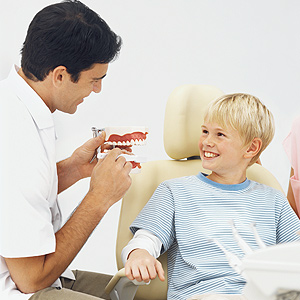 As a parent, the task of guiding your children through their physical, mental and social development can sometimes seem overwhelming. That doesn't have to be the case with their dental development — that's because we're one of your most reliable support partners for oral health. We're available not only to treat problems as they arise, but to also offer expertise and resources that can help you help your children establish life-long oral health.
Here are just a few ways we can help guide you along the path to a brighter dental future for your children:
Age One Dental Visit. A healthy life is built on healthy habits — and there's no better habit for great dental health than regular checkups. We recommend your child's first visit with us around their first birthday. Beginning this early not only helps us identify any emerging dental problems, it can also help the child — and you — become more comfortable with visiting the dentist. As they grow older they'll think nothing of their regular visits in the dentist's chair.
Help! While your child's first teeth coming in are exciting milestones, the teething process can be extremely frustrating. And, when those same primary teeth give way to their permanent versions, you'll develop a new set of concerns about their development. By establishing a long-term trust relationship with us, we can offer a wealth of knowledge and tips (as well as needed reassurance) concerning the various stages of your child's dental development.
"Do as I Do." Dental visits are important — but the greatest contribution to long-term dental care is a daily habit of proper brushing and flossing, which should start as soon as your child's first teeth begin to appear. "Modeling" is the best approach for instilling this habit in your child — performing hygiene tasks together and allowing them to learn how to do it from you. To be sure you're passing on the proper technique, we'll be glad to provide you with instruction on brushing and flossing — for your sake as well as theirs.
Although rewarding, raising a child is a tough job. When it comes to their oral health, though, we can help make that job a little easier.
If you would like more information on building the right foundation for your child's dental health, please contact us or schedule an appointment for a consultation. You can also learn more about this topic by reading the Dear Doctor magazine article "Dentistry & Oral Health for Children."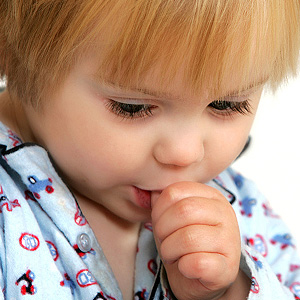 There's something universal about thumb sucking: nearly all babies do it, and nearly all parents worry about it. While most such worries are unfounded, you should be concerned if your child sucks their thumb past age of 4 — late thumb sucking could skew bite development.
Young children suck their thumb because of the way they swallow. Babies move their tongues forward into the space between the two jaws, allowing them to form a seal around a nipple as they breast or bottle feed. Around age 4, this "infantile swallowing pattern" changes to an adult pattern where the tip of the tongue contacts the front roof of the mouth just behind the front teeth. At the same time their future bite is beginning to take shape.
In a normal bite the front teeth slightly overlap the bottom and leave no gap between the jaws when closed. Â But if thumb sucking continues well into school age, the constant pushing of the tongue through the opening in the jaws could alter the front teeth's position as they erupt. As a result they may not fully erupt or erupt too far forward. This could create an open bite, with a gap between the upper and lower teeth when the jaws are closed.
Of course, the best way to avoid this outcome is to encourage your child to stop thumb sucking before they turn four. If, however, they're already developing a poor bite (malocclusion), all is not lost — it can be treated.
It's important, though, not to wait: if you suspect a problem you should see an orthodontist for a full evaluation and accurate diagnosis. There are even some measures that could discourage thumb sucking and lessen the need for braces later. These include a tongue crib, a metal appliance placed behind the upper and lower incisors, or exercises to train the tongue and facial muscles to adopt an adult swallowing pattern. Often, a reward system for not sucking their thumbs helps achieve success as well.
Thumb-sucking shouldn't be a concern if you help your child stop before age 4 and keep an eye on their bite development. Doing those things will help ensure they'll have both healthy and straight teeth.
If you would like more information on thumb sucking, please contact us or schedule an appointment for a consultation. You can also learn more about this topic by reading the Dear Doctor magazine article "How Thumb Sucking Affects the Bite."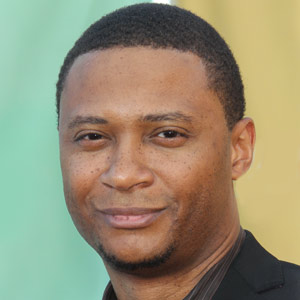 Cavities can happen even before a baby has his first piece of candy. This was the difficult lesson actor David Ramsey of the TV shows Arrow and Dexter learned when his son DJ's teeth were first emerging.
"His first teeth came in weak," Ramsey recalled in a recent interview. "They had brown spots on them and they were brittle." Those brown spots, he said, quickly turned into cavi­ties. How did this happen?
Ramsey said DJ's dentist suspected it had to do with the child's feedings — not what he was being fed but how. DJ was often nursed to sleep, "so there were pools of breast milk that he could go to sleep with in his mouth," Ramsey explained.
While breastfeeding offers an infant many health benefits, problems can occur when the natural sugars in breast milk are left in contact with teeth for long periods.  Sugar feeds decay-causing oral bacteria, and these bacteria in turn release tooth-eroding acids. The softer teeth of a young child are particularly vulnerable to these acids; the end result can be tooth decay.
This condition, technically known as "early child caries," is referred to in laymen's terms as "baby bottle tooth decay." However, it can result from nighttime feedings by bottle or breast. The best way to prevent this problem is to avoid nursing babies to sleep at night once they reach the teething stage; a bottle-fed baby should not be allowed to fall asleep with anything but water in their bottle or "sippy cup."
Here are some other basics of infant dental care that every parent should know:
Wipe your baby's newly emerging teeth with a clean, moist washcloth after feedings.
Brush teeth that have completely grown in with a soft-bristled, child-size toothbrush and a smear of fluoride toothpaste no bigger than a grain of rice.
Start regular dental checkups by the first birthday.
Fortunately, Ramsey reports that his son is doing very well after an extended period of professional dental treatments and parental vigilance.
"It took a number of months, but his teeth are much, much better," he said. "Right now we're still helping him and we're still really on top of the teeth situation."
If you would like more information on dental care for babies and toddlers, please contact us or schedule an appointment for a consultation. You can also learn more by reading the Dear Doctor magazine articles "The Age One Dental Visit" and "Dentistry & Oral Health for Children."