My Blog
Posts for tag: nutrition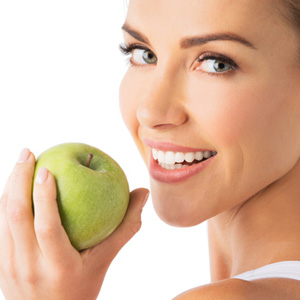 If you're brushing and flossing daily, as well as seeing your dentist at least every six months, you're doing the top things needed to maintain your dental health. But all your hygiene efforts could be undermined if you're not eating a dental-friendly diet. Simply put, there are foods that protect and promote dental health and those that increase your risk of dental disease.
Diets in the latter category are typically high in added sugar and low in natural food fiber. The largest sources of these are processed sugars from sugar cane or beets and high fructose corn syrup. With just a little knowledgeable label reading, you can find sugar and its various aliases added to thousands of processed food items including pastries, candies, sodas and energy drinks.
Heavy consumption of processed sugars also contributes to dental disease. Disease-causing bacteria thrive on sugar as a food source, which fuels both their growth and their production of oral acid. Elevated acid levels can dissolve the minerals in tooth enamel faster than saliva can keep up. Softened enamel opens the door to tooth decay, while increased bacterial growth can lead to periodontal (gum) disease.
A diet, however, low in added sugar and high in fiber can have the opposite effect. Although fresh fruits and vegetables contain natural sugars, they also have indigestible parts called fiber that slow the digestion of any sugars and allow the body to more efficiently process them.  With the higher quantity of vitamins and minerals found in unprocessed foods, the overall effect of this diet is a decrease in your risk for dental disease.
Speaking of dental-friendly foods, we should also give honorable mentions to certain dairy items like cheese and milk that stimulate saliva production and are rich in calcium needed for tooth strength. Another beneficial category is both black and green tea, which contain antioxidants to fight disease and fluoride to strengthen enamel.
Adopting a low-sugar/high-fiber diet can have a profound impact on your overall health. Over time, you'll also reap dental health rewards with stronger teeth and gums and a lower risk of tooth decay and gum disease.
If you would like more information on diet and oral health, please contact us or schedule an appointment for a consultation. You can also learn more about this topic by reading the Dear Doctor magazine article "Nutrition & Oral Health."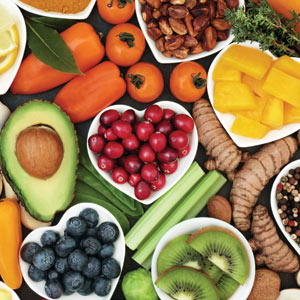 March is national nutrition month—a good time to look at the connection between diet and oral health. You probably know that sugar is a major culprit in dental problems. This is because bacteria feed on sugars and create acid that can lead to tooth decay and gum disease. Avoiding sugary foods and drinks as much as possible is a good rule of thumb, but there are some food choices that actually benefit your oral health. Here are nutrition tips that will help keep your smile healthy for life:
Say cheese. Dairy products such as milk, cheese and yogurt contain calcium and phosphorus to build teeth and strengthen the supporting bone. And cheese neutralizes acid in the mouth to help fight cavities and gum disease.
Choose lean proteins. Lean meats, poultry, fish, milk and eggs help strengthen teeth. They are rich in protein and phosphorous, which is essential for building strong bones and teeth.
Eat a rainbow. Fruits and vegetables provide many key nutrients, including vitamins necessary for healing, bone strength, and healthy gums. Besides being nutritious, fruits and veggies scrub your teeth while you chew and stimulate the production of saliva, which is necessary for neutralizing acid and rebuilding enamel.
Nibble on nuts. Nuts contain protein, fiber and healthy fats. They also contain essential vitamins and minerals to keep teeth strong and gums healthy. Further, chewing nuts stimulates saliva production, lowering the risk of tooth decay.
Go for the grains. Studies have shown that eating too many refined carbohydrates such as white bread and sweet bakery items can lead to chronic inflammation, which is a factor in gum disease, heart disease, stroke and other conditions. In contrast, eating complex carbohydrates such as whole grains may reduce inflammation in the body.
What you put in your body can play a big role in preventing tooth decay and gum disease, so choose foods that provide the right building blocks for optimal dental and overall health.
If you have questions about how nutrition affects oral health, please contact our office or schedule a consultation. You can learn more in the Dear Doctor magazine article "Nutrition & Oral Health."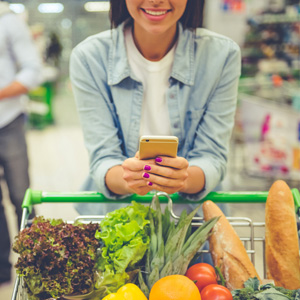 Although oral cancer isn't the most prevalent among metabolic diseases, it is one of the most deadly with only a 50% survival rate after five years. That's because it can be difficult to detect in its early stages when treatment is most effective.
That's why prevention to reduce your chances of oral cancer is so important. Many people know quitting tobacco products, including smokeless varieties, and moderating alcohol consumption are key to any prevention strategy. But there's one other factor you should also consider: your diet.
We've learned quite a bit in the last few decades about how certain foods we eat contribute to the cancer disease process. Cancer seems to originate when elements in the body or environment (known as carcinogens) damage DNA, our unique genetic code, on the cellular level. For example, a class of chemicals called nitrosamines is a known carcinogen: we often encounter it in the form of nitrites used to preserve meat (like bacon or ham) or as byproducts in beer, seafood or cheese.
Another form of carcinogen is the unstable molecules produced during normal cellular function called free radicals. But our bodies have a natural neutralizer for free radicals called antioxidants. We obtain these substances in our food in the form of vitamins and minerals. While you can also ingest these in the form of supplements, the best way to obtain them is through a diet rich in plant-based food, particularly fruits and vegetables.
So in addition to lifestyle changes like quitting tobacco or moderating alcohol consumption, make sure your diet is a healthy and nutritious one. Limit your intake of processed foods (especially meats) and increase your portions of fresh fruits, vegetables and dairy products.
And don't neglect practicing effective brushing and flossing each day, along with regular dental cleanings and checkups. All of these healthy practices will greatly decrease your chances for life-threatening oral cancer.
If you would like more information on preventing oral cancer, please contact us or schedule an appointment for a consultation. You can also learn more about this topic by reading the Dear Doctor magazine article "Diet and Prevention of Oral Cancer."