My Blog
Posts for tag: dentures
People have depended on dentures for generations—and they still do. That's because they work, both in restoring dental function and a smile marred by missing teeth.
But they have one major drawback related to bone health. That's because living bone has a life cycle: as older cells die, new ones form to take their place. The pressure generated when we chew stimulates this growth. But when this stimulus goes missing along with the teeth, the cell replacement rate slows and bone volume and density gradually diminishes.
Traditional dentures can't transmit this chewing pressure stimulus. And because they rest directly on the gum ridges, they can adversely affect the underlying bone and actually accelerate bone loss.
But implant technology potentially solves this bone loss problem with dentures by using implants rather than the gums to support them. It's a two-fold benefit: first, the implants relieve much of the irritation to the gums and bone caused by traditional dentures. Primarily, though, the implants themselves can slow or even stop continuing bone loss.
Most implants are made of titanium, not only because it's compatible with the body, but also because it has an affinity with bone. Over time bone cells grow on the titanium post imbedded in the jawbone. This process not only creates stability and durability, it can improve bone health.
In recent years dentists have incorporated implants with dentures to create two exciting treatment options. With one option, the dentist installs two or more implants in the jaw, to which a specially fitted removable denture can be attached. You would still have the ease of removing the denture for cleaning, while gaining greater stability and a reduced risk of bone loss.
The other option is a fixed denture (or bridge) attached permanently to implants. For this option, a patient's jawbone must be adequate and healthy enough to support at least four to six implants. A fixed denture is also often costlier and more complex than a removable denture, but it can feel more like real teeth. It also promotes better bone health too.
Although both options are more expensive than traditional dentures, they can pay dividends for long-term dental health. Implants could help you enjoy your new dentures and resulting smile for a long time to come.
If you would like more information on dental implant-supported restorations, please contact us or schedule an appointment for a consultation. You can also learn more about this topic by reading the Dear Doctor magazine article "Overdentures & Fixed Dentures."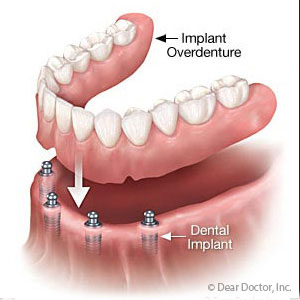 Although dental disease prevention has made great strides over the last century, tooth decay and periodontal (gum) disease continue to pose a major health threat. People who've lost all of their teeth (edentulism) or most of them suffer the most with adverse effects on their overall health, function and appearance.
Removable dentures have been the traditional and most affordable means to treat edentulism. But even with material and construction advances in recent years, dentures can still lose their fit over time as the bone in the jaw shrinks. This happens because the bone no longer has the stimulus of natural teeth and older cells can't be replenished at a healthy rate; the continuing compression of traditional dentures on the jaw's bony ridges compounds the problem.
As the bone shrinks the dentures become loose and uncomfortable to wear. Among other results, this poor fit can drastically affect how you eat: studies of denture wearers have found a decrease in their diet's nutritional value because they're eating fewer vegetables or fibrous, "chewy" foods and more foods with refined carbohydrates and fats that are easier to eat but less nutritious.
There is an alternative, though, that might slow bone loss and provide a better long-term fit: an overdenture supported by dental implants. With this appliance, a few implants are strategically installed in the upper or lower jaw. Matched attachments securely fasten the denture to the implants. In this case, the implants not the jaw ridge and gums support the denture thereby preserving the bone.
If you're healthy enough to undergo a tooth extraction, you should be able to handle implant surgery, a minor procedure usually performed with local anesthesia and with little to no discomfort afterward. It may even be possible to retrofit your current denture to work with the implants, but that will need to be determined during the planning stages.
Although more expensive than a traditional denture, overdentures are much more affordable than fixed restorations stabilized with implants. The difference, though, is the increase in your quality of life — for better nutrition, physical health and social confidence.
If you would like more information on treatment for teeth loss, please contact us or schedule an appointment for a consultation. You can also learn more about this topic by reading the Dear Doctor magazine article "Implant Overdentures for the Lower Jaw."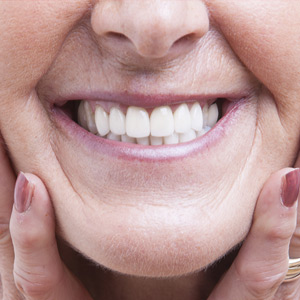 You probably can't remember a time without your teeth — and can't imagine life without them. But now it's a reality: one by one your teeth have become casualties in a long-standing war with dental disease until now they're all lost.
Total tooth loss (edentulism) can be difficult in more ways than the loss of function — it can be psychologically traumatic as you must now transition from natural teeth to dentures or other restorations. To add to the stress, you probably won't be able to obtain your permanent restoration immediately because the extraction sites must heal.
To help you with this transition and provide a means for you to have teeth during the healing period, we may fit you with an appliance known as an immediate denture. With these temporary teeth replacements, you can maintain your smile appearance, chew food and speak unimpaired.
Initially, immediate dentures should fit well, but over time your gums will tend to shrink as they heal. This can loosen the dentures' fit and make them uncomfortable to wear. If the healing process is still ongoing and you still need to wear the immediate dentures, they can be relined with more denture material to fine-tune the fit.
At some point, though, we must consider creating a new, permanent set of dentures. When your mouth is fully healed, we can make a more accurate impression that we can then use to construct your new set. There are also other options, such as using dental implants to support a denture or a fixed bridge. This option will only be possible, however, if you have sufficient bone available to fully support it, which we might also be able to augment with grafting.
Immediate dentures serve a worthwhile purpose, but only for a temporary period. We'll be happy to discuss all your options with you to help you find the right permanent solution that fits both your mouth's condition and your financial ability.
If you would like more information on transitioning to teeth replacement, please contact us or schedule an appointment for a consultation. You can also learn more about this topic by reading the Dear Doctor magazine article "Immediate Dentures."