My Blog
Posts for tag: dental implant

Dental implants are a reliable way to replace teeth. More than 95% of implants survive ten years after their installation, and many of these could conceivably continue for decades.
But that still leaves a tiny few that don't reach the ten-year mark. Some fail early because the implant didn't integrate fully with the bone to create a durable hold. But others fail later—usually for one of two major causes.
Some failures occur due to over-stressing of the implant from abnormally high biting forces, usually because of teeth grinding. People who have this involuntary habit generate excessive force as they grind their teeth, which can damage implants (as well as natural teeth). To reduce this force, a patient's dentist can fit them with a biteguard they wear in the mouth to prevent teeth from making solid contact with each other during a grinding episode.
Fortunately, teeth grinding isn't that prevalent among adults—but that can't be said about the other major cause for implant failure: periodontal (gum) disease. This is a bacterial infection caused by dental plaque, a thin, bacterial film that accumulates on teeth. The implant itself isn't affected by the infection, but the gums and underlying bone supporting the implant can be.
Implants are most in peril from a form of gum disease called Peri-implantitis, which spreads deeper into the gum tissues around implants faster than infections around natural teeth. That's because implants lack the gum attachment of real teeth, which supply a collagen barrier that slows the spread of infection. Peri-implantitis can quickly infect the supporting bone and eventually weaken its connection with the implant.
Because of its aggressiveness and speed, we must diagnose and treat peri-implantitis as soon as possible to limit any damage to the support structures around an implant. If you notice any swollen, reddened or bleeding gums, you should call your dentist as soon as possible for an examination.
And in light of this potential danger to your implants, you should also strive to prevent gum disease through daily oral hygiene. Brushing and flossing your teeth, including around your implants, removes harmful plaque buildup. This daily habit and regular dental cleanings will help you avoid a costly gum infection and ensure your implants are there for years to come.
If you would like more information on dental implants, please contact us or schedule an appointment for a consultation. You can also learn more about this topic by reading the Dear Doctor magazine article "Dental Implants: A Tooth-Replacement Method That Rarely Fails."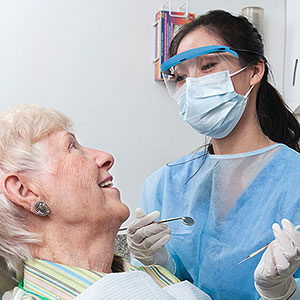 Daily oral hygiene and regular dental cleanings help keep your natural teeth and gums healthy and disease-free. But they're also a priority with dental implants. Here's why.
Unlike other restorations, an implant replaces both a tooth's crown and root, the latter by way of a titanium metal post imbedded into the jawbone. Bone cells grow and adhere to the metal surface, forming a secure and lasting hold.
But although quite durable, this hold differs significantly from natural teeth, which are actually held in place by a tough, elastic tissue called the periodontal ligament. The attachment of the ligament's tiny fibers to both tooth and bone secure the tooth in place, as well as supply it and the surrounding gums with nutrients and defensive antibodies to fight infection.
Implants don't have this relationship with the periodontal ligament. The tissues around an implant are thus susceptible to an aggressive form of periodontal (gum) disease called peri-implantitis. This kind of gum infection can progress rapidly, leading eventually to bone loss and possible failure of the implant.
Daily brushing and flossing of both natural and implant-supported teeth lowers the risk of gum disease, particularly peri-implantitis. It's also imperative that you undergo regular cleanings, at least every six months, with your dentist or dental hygienist.
These, however, won't be the typical cleanings performed on natural teeth. Hygienists don't use metal cleaning implements to remove plaque and tartar deposits because they can scratch the metal materials of the implant and crown. These microscopic scratches can then attract bacteria that trigger gum infections. Instead, they'll use instruments made of plastics or resins.
Hygienists also rely heavily on ultrasonic equipment that vibrates plaque loose on or around implants, which are then flushed away with water. The tips used with these instruments are also typically made of nylon or plastic sheathing.
Even with the extra hygiene care needed, implants still enjoy a 95% or higher survival rate after ten years. You can ensure your implants achieve that level of durability by keeping them clean and seeing your dentist at the first sign of a gum infection.
If you would like more information on maintaining dental implants, please contact us or schedule an appointment for a consultation. You can also learn more about this topic by reading the Dear Doctor magazine article "Dental Implant Maintenance."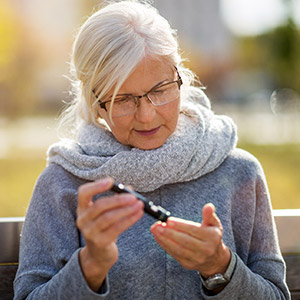 You would love to replace a troubled tooth with a dental implant. But you have one nagging concern: you also have diabetes. Could that keep you from getting an implant?
The answer, unfortunately, is yes, it might: the effect diabetes can have on the body could affect an implant's success and longevity. The key word, though, is might—it's not inevitable you'll encounter these obstacles with your implant.
Diabetes is a group of metabolic diseases that interfere with the normal levels of blood glucose, a natural sugar that is the energy source for the body's cells. Normally, the pancreas produces a hormone called insulin as needed to regulate glucose in the bloodstream. A diabetic, though either can't produce insulin or not enough, or the body doesn't respond to the insulin that is produced.
And while the condition can often be managed through diet, exercise, medication or supplemental insulin, there can still be complications like slow wound healing. High glucose can damage blood vessels, causing them to deliver less nutrients and antibodies to various parts of the body like the eyes, fingers and toes, or the kidneys. It can also affect the gums and their ability to heal.
Another possible complication from diabetes is with the body's inflammatory response. This is triggered whenever tissues in the body are diseased or injured, sealing them off from damaging the rest of the body. The response, however, can become chronic in diabetics, which could damage otherwise healthy tissues.
Both of these complications can disrupt the process for getting an implant. Like other surgical procedures, implantation disrupts the gum tissues. They will need to heal; likewise, the implant itself must integrate fully with the bone in which it's inserted. Both healing and bone integration might be impeded by slow wound healing and chronic inflammation.
Again, it might. In reality, as a number of studies comparing implant outcomes between diabetics and non-diabetics has shown, there is little difference in the success rate, provided the diabetes is under control. Diabetics with well-managed glucose can have success rates above 95%, well within the normal range.
An implant restoration is a decision you should make with your dentist. But if you're doing a good job managing your diabetes, your chances of a successful outcome are good.
If you would like more information on dental care and diabetes, please contact us or schedule an appointment for a consultation.